The show comes to a complete standstill as the CarnageTron suddenly bursts into life – the arena plunging into complete darkness
This eerie feeling slowly grows around the arena as the monster of a man simply known as The Despair appears somewhere backstage
Darkness engulfs him in what seems an old, abandoned house barely standing up
-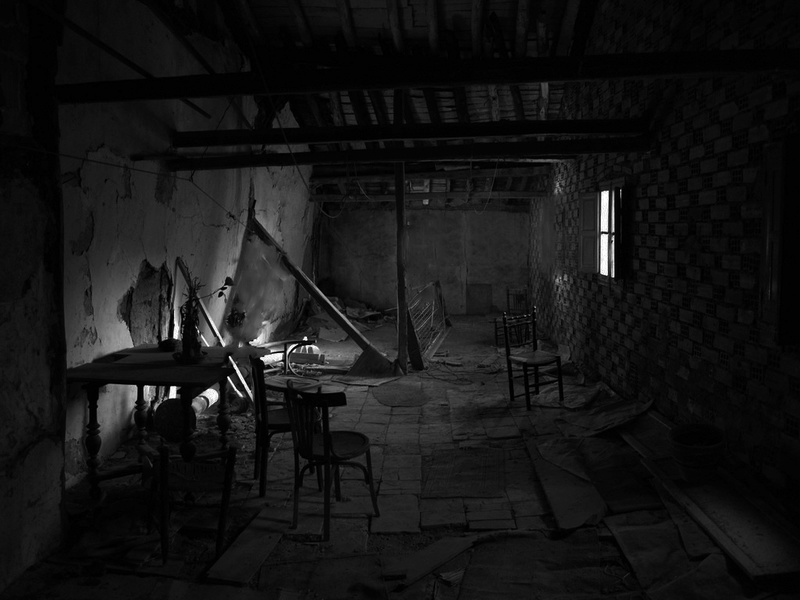 -
The Despair looks down, as this sick, frightening laugh can be barely heard coming from him.
-
This is the image for the next couple of seconds, but to the audience it seems like an eternity
-
Suddenly, out of nowhere, comes this sharply dressed white male into the camera frame – he looks directly into the camera with this twisted smirk on his face
-
Aaron Steele: "For those not in the know, allow me to once again introduce myself… My name, and please take firm note of this, my name is Aaron Steele, formerly known as a bona fide agent to the stars! A star maker, a deal broker… But now humbly known as the Mouthpiece of Despair. As the agent and manager of the man standing beside me, simply going by The Despair!"
-
Aaron Steele looks back and impossibly, the smirk on his face gets slightly bigger
-
Aaron Steele: "Last week I warned the Carnage in Ring locker room, and most importantly I warned you…"
-
Aaron Steele points directly at the camera
-
Aaron Steele: "You, the audience in the arena and all the viewers at home that despair was soon to dawn upon Carnage in Ring. That despair will soon engulf the Carnage in Ring universe leaving no man untouched, no rock unturned. Soon this place will be my monster's playground, and all of you the funders to all his dark desires and sadistic fun"
-
The Despair slowly looks up and starts clutching his fists
-
Aaron Steele: "But please, allow me to make something completely clear, you may think you know his intentions. Our intentions… And sure, we are here to bring complete annihilation and misery to every member of this prestigious organization, but the bigger picture, the bigger picture is one not one member of the public or this federations have the slightest incline of! We are here to dominate, take names and rise to the top. We aren't here to make friends, or cry out loud for your admiration. For your approval. As I said last week, my monster was once as weak minded as everyone else… He did everything for you. He did what he could to gain your applause and cheers. But the man standing right here today, has no intentions of listening to you or your opinions. He is here to claim back what was once his. To claim back his throne and be once again the ruler of his kingdom."
-
The Despair can be seen slowly and creepily turning his head sideways whilst staring directly into the camera.
-
Aaron Steele: "Should you be stupid enough to stand in our way, we will beat you within an inch of your life, take your dreams, aspirations and leave you to fall into completely obscurity and despair. Because nothing, and no one can stop us from doing just that. And tonight, we take our first step in our path to complete despair. Tonight, the pour soul that decides to step into that squared ring with my monster will find out first-hand how it feels meet a force other-worldly. A force that cannot and will not be stopped"
-
Aaron Steele start chuckling to himself
-
Aaron Steele: "Because tonight once my monster is done with you, whomever you are… You may call him The Despair…"
-
Aaron Steele adjusts the glasses on his face, proudly smiling sadistically
-
Aaron Steele: "…Because that all you'll feel once my monster is done with you!"
-
Aaron Steele starts laughing evilly as the camera focuses on the cold eyes of The Despair staring right back at it.



Posts

: 8


Join date

: 2017-05-31



Another great rp!
One little thing: Titantron is a WWE trademarked name, and TWG heavily advises against using WWE trademarks (pictures of wrestlers during their wwe runs, etc.) so we use CarnageTron instead.
A really, really minor thing in an otherwise A+ rp




Posts

: 316


Join date

: 2014-01-05


Age

: 22



---
Permissions in this forum:
You
cannot
reply to topics in this forum